Maths Hub Challenge Day
Back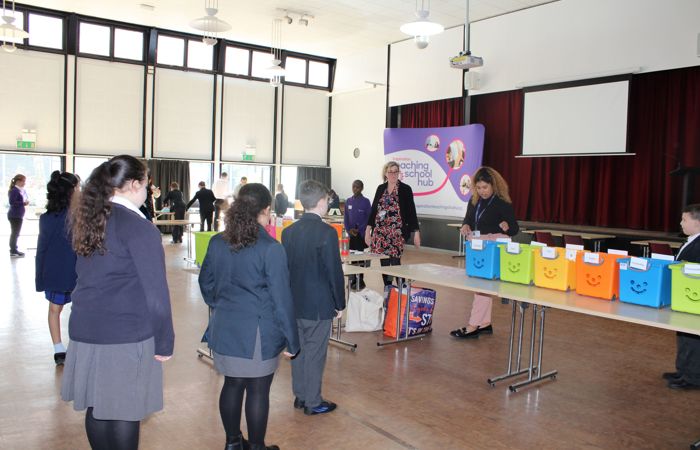 Published on 29/03/22
On Friday, the Inspiration Teaching School Hub was home to the Maths Hub Mathematical Enrichment Day. The day, designed and delivered by Inspiration Teacher Training course leads and trainees, was aimed at inspiring a love of maths in Year 5 and 6 pupils from across the Trust.
Pupils from all five Trust primary schools came together to work on mathematical problems involving a variety of skills, including sequencing, place value, co-ordinates, 3D skills and problem solving, which motivated and aided their interest and enjoyment of mathematics.
Lisa Coe, Inspiration Trust's Primary Maths Lead said: "some of our learners are often quieter in classrooms and so it was great to see them interact with their peers from across the Trust and get involved in collaborative problem solving. Pupils enjoyed the range of activities and showed a lot of resilience, especially in pattern and spatial tasks."
Students worked alongside their peers throughout the day and were challenged to 'pack' parcels', 'shut the box', 'avoid mines' and 'cross rivers' using their mathematical and reasoning skills. The excitement and enjoyment of pupils was obvious, as they collected stickers for completing tasks and collaborated with new friends from other schools.
William Card, an Inspiration Teacher Training Secondary Maths trainee said: "It was amazing to see students develop confidence in communicating effectively as a team whilst tackling problems. The atmosphere was lovely to be apart of with everyone present, myself included, having a great time!
At lunchtime, one boy said, 'I thought we had come to do Maths today', to which a child from another school replied 'we have been doing maths! I have never had to think so hard!'. It goes to show that not all Maths appears in books in classrooms when you take the time to look around you, maths is everywhere!
Rebecca Emsden, a Secondary Maths trainee on the Inspiration Teacher Training course, was pleased with how the pupils engaged with the activities: "It was lovely to see the children develop their teamwork and problem solving skills whilst engaging with the mathematical activities!"
Nicola Coe, Inspiration Trust's Director of Maths said: "the day was a resounding success, and I would like to thank all the teachers and support staff from primary schools who accompanied their pupils and got so involved in participating with the activities. The day wouldn't have been possible without the Secondary Maths Inspiration Teacher Training team (course leads and trainees) who designed and delivered all the activities during the day as part of their 'alternative placement' work. I thank them for their dedication and commitment to maths teaching."