Inspiration SEND Network Book Blog #4: SEND Assessment
Back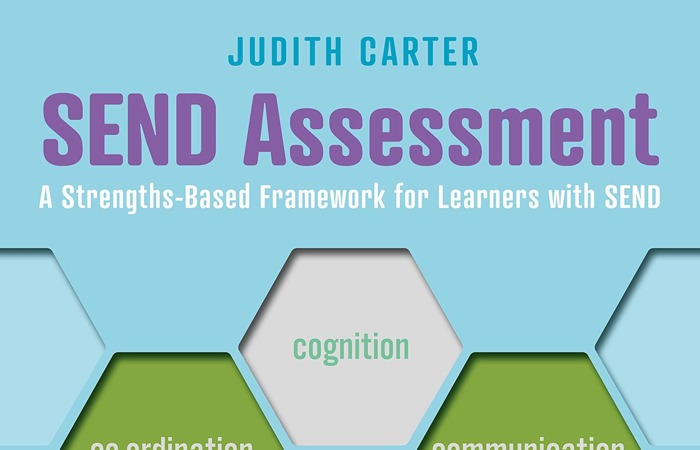 Published on 04/02/22
SEND Assessment: A Strength Based Framework for Learners with SEND
Judith Carter
Accurate assessment of SEND is key to implementing appropriate support for pupils with SEND. Mary Williams, an experienced SENCO at Great Yarmouth Primary Academy, Cobholm Primary Academy and Stradbroke Primary Academy, reviews Judith Carter's first book in The Essential SENCO Toolkit series and how it can support SENCOs in both initial assessment and ongoing tracking of progress for pupil with SEND.
Hooked on the first page! Judith knows her audience well: as you open the book, the first page is the link to free resources. This is usually hidden at the back or the bottom of a page and having logged in to access them, there are loads of resources to support your use of the assessment tool. These can all be used in any key stage and shared with parents/carers as well as classroom and school staff.
This book is part of The Essential SENCO Toolkit series and it offers numerous practical ideas which are easy to implement along with supporting materials that enable anyone in school to capture learning. In conjunction with this, it allows you to demonstrate the impact of SEN support and analyse whether the provision you offer is overcoming or removing barriers to learning.
Judith's holistic approach is refreshing as it does not just focus on curriculum and academic attainment alone. There are seven components and all together they make the 7 C's - cognition, compassion, communication, creativity, control, co-ordination and the curriculum. Catchy and easy to remember, yes, but also practical and usable within a mainstream or specialist setting as it incorporates research and school experience into the assessment tool.
Each of the 7 C's is broken down into a further 7 subcategories which enables all staff to share the language of assessment around an all-inclusive framework. The language used is also useful to consider when making referrals to external and medical professionals as it enables the referrer to describe the child or young person in detail.
The templates provided for tracking anticipated and actual impact for existing assessment tools such as BPVS (British Picture Vocabulary Scale), Phab 2 (Phonological Assessment Battery), SDQ (Strengths and Difficulties Questionnaire) are particularly useful, as well as the suggested strategies for overcoming and removing barriers to learning. A person-centred approach is maintained throughout, as the Action Plan enables the learner to self-assess and ensures they are fully involved in target setting and reviewing, with everything explained in a child friendly manner. The Progress Tracker, which can also be used through Pupil Asset, is a tool to capture progress which can be easily shared with all adults, including parents and carers. Judith provides letter templates to explain the tool to both the learner and their families.
There are ways to introduce the portfolio into school at different levels, through functional, intermediate and extensive application of the tool. Along the way Judith poses questions for self-reflection to help get you thinking about introducing the tool and how it will work in your school but if you are stuck, she has provided a 'Getting started' guide to help support those first steps should it be necessary. I have to admit I did spend quite a bit of time looking at the descriptions and thinking about which children they described perfectly. By providing resources online it means that the tool can be adapted to fit your setting and children. I cannot praise Judith enough for writing this and look forward to reading the next book in the series which will focus on interventions - always a talking point for those working within the field of SEND.
Judith Carter can be found on Twitter and is Director of Willow Tree Learning.
Judith will be speaking at the Inspiration SEND Network conference on Saturday 2nd July 2022 - tickets to be released soon!
---
Inspiration SEND Network is a network for SENCOs, senior leaders, governors and aspiring SENCOs with the mission to develop the leadership of SEND and improve outcomes for learners with SEND.