Frequently Asked Questions
How are the NPQs assessed?
The new and reformed NPQs are assessed using an open-book case study, over a period of eight days, to be flexible around your commitments. This will take place within 3 months of the NPQ sessions ending. It is marked on a pass/fail basis, and if you do not pass you will have an opportunity to take part in the next assessment. It is an opportunity to show how you would apply your learning on the course in a school scenario.
What is the time commitment required?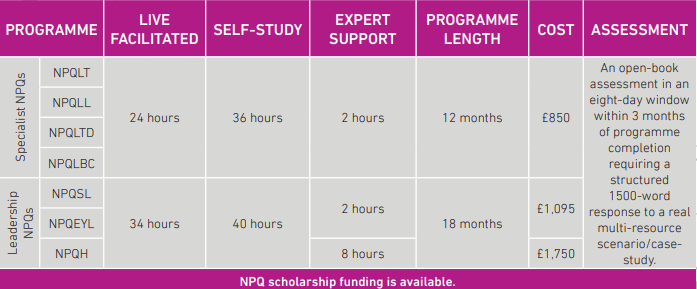 How does the funding process work?
During the application process you will need to register on the DfE portal and the information you supply here will be used to automatically apply the scholarship funding, if applicable. You then need to take no further action regarding funding.
If you are not eligible for funding you will be asked to confirm how you intend to pay for the course.
What if I do not have a Teacher Reference Number (TRN) to use in my application?

You do not need to have qualified teacher status for the NPQ in Leading Behaviour and Culture (NPQLBC) or NPQ in Early Years Leadership (NPQEYL), however you will need a Teacher Reference Number (TRN).

If you work in an eligible school role and are not a qualified teacher, you can still apply for a TRN to use in your application. You do not need to hold qualified teacher status to have a TRN.

Guidance from the Department for Education (DfE):
"Please email the Teaching Regulation Agency at qts.enquiries@education.gov.uk. The team aim to respond to valid email requests within 5 working days. You will need to provide certain items of information, and confirmatory identification, so we can allocate you a TRN. Please use the free Galaxkey secure email platform to ensure your identification documents are protected. To send a secure email to the department, please go to the Galaxkey site: https://manager.galaxkey.com/services/registerme"
Do I need to stay in the same role and school throughout the course?
No, the NPQs are designed in such a way that any learning can be carried across. Unlike the old-style NPQs, there is no school-based project for assessment.
If you do change school during your course, it is important to let us know for Department for Education funding and administrative purposes. We can advise on next steps.
I have a question about NPQs not answered here. Who do I contact?
If you have any questions about our NPQ programmes, or would like to know more, please contact us on 01603 733443.